---
Why Is Bill Ackman Backing This Anti-Woke Firm?

Last year he came out in support of ESG. Now he's investing in a new money manager that opposes it.

May 13, 2022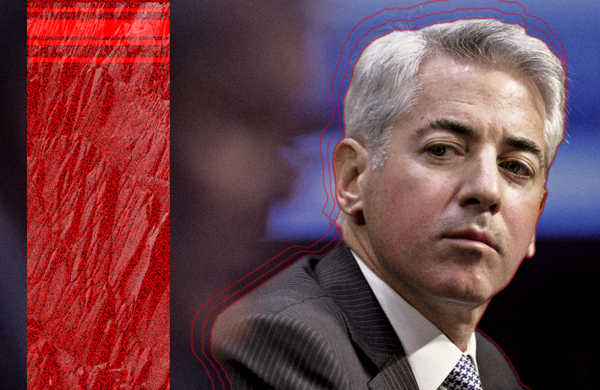 Andrew Harrer/Bloomberg
As the ESG investment movement swept through corporate America last year, hedge fund manager Bill Ackman was on board.
"We believe that good ESG practices are fundamentally aligned with running a successful business," Ackman wrote in his annual report to investors in 2021. "As consumers and other corporate customers have become increasingly educated on matters of ESG, they have begun to avoid companies that contribute to climate change or do not treat their employees well, while rewarding companies with their business that have sustainable and responsible policies."
Ackman said his hedge fund Pershing Square Capital Management was even using ESG as "an additional lens with which to evaluate how companies perform."
Now, however, Ackman is investing in a new money management firm, called Strive Asset Management, whose co-founder Vivek Ramaswam has come out against ESG investing by big asset managers, presumably because it is "woke" and not all their clients are.
Ramaswamy, 36 years old, is a Harvard graduate, like Ackman. He is also the author of "Woke, Inc.: Inside Corporate America's Social Justice Scam," a book which argues that "politics has no place in business."
Another prominent Strive investor is venture capitalist Peter Thiel. Thiel was a Trump supporter who is now backing J.D. Vance, the "Hillbilly Elegy" author who just won the Republican nomination for the Ohio Senate race — one of this fall's bellwether contests that could end up tipping the balance of power in Congress.
Ramaswamy is a donor to the Republican Party of Ohio and plans to center his money management firm in the state, where he grew up. And hile Strive promises to take "politics" out of business decisions, a press release announcing the new firm sounds rather political.
"Today, Strive Asset Management launches with the mission of restoring the voices of everyday citizens in the American economy by leading companies to focus on excellence over politics," a press release stated. (That's why he located it in Ohio, he said.)
Although Strive has only raised $20 million, it plans to take on the three largest U.S. asset managers — BlackRock, Vanguard, and State Street — which control over $20 trillion in assets, because it claims they are more concerned about "stakeholder capitalism" and are using "their clients' funds to exercise decisive influence over nearly every U.S. public company to advance political ideologies that many of their clients disagree with. They engage in coordinated efforts to enact a uniform social agenda across corporate America resulting in higher gas prices and other consumer harms."
On Twitter, Ramaswamy said that these firms are enacting "politicized agendas that most Americans disagree with."
Polls have shown that this is not the case. For example, in the spring of 2020, a Pew Research survey found that two-thirds of Americans believe that more should be done to combat climate change, including developing alternative sources of energy.
For his part, BlackRock CEO Larry Fink has denied that stakeholder capitalism is political, saying earlier this year that "it is not a social or ideological agenda. It is not 'woke.'"
Most of the criticisms of ESG investing — like those of Tariq Fancy, a former BlackRock executive who was in charge of sustainable investing there between 2018 and 2019 —instead allege that ESG is sometimes window dressing that doesn't do enough to create change.
The most prominent — and promising — of the ESG efforts last year was Engine No. 1's proxy battle at ExxonMobil, which led the oil giant to install three new members on its board to help transition its business to meet climate change goals. In an interview in the Wall Street Journal announcing his firm, Ramaswamy said he would not have voted in favor of those directors. He also told CNBC that Exxon is performing more poorly as a result of the activist battle.
But Engine No. 1's pitch to investors was solely based on Exxon's lagging performance, not politics. Since the new members joined the board a year ago, Exxon has continued to drill for more oil, and its stock is up about 40 percent. And while the war in Ukraine and rising inflation have increased the price of gas at the pump for Americans, climate change is still threatening the planet.
Strive has already won praise on from various voices on the right, including conservative political commentator Ben Shapiro, who tweeted that Ramaswamy was doing "amazing important work."
The American Conservative Values ETF also tweeted, saying that it welcomed him to the "politically conservative investing community."
Ackman, a registered Democrat, is not a member of that group. He has supported Democratic candidates like Sen. Cory Booker, Mike Bloomberg, and Transportation Secretary Pete Buttigieg.
And he told Institutional Investor that he still believes what he wrote last year. In that letter, he wrote that he used to think "business was about making money, and philanthropy was about doing good."
Because philanthropy and government alone could not "save the world," he said in the letter that it was necessary for "a successful business operating ethically" to "positively impact the society and environment in which it operates."
He then launched into a robust defense of ESG investing, saying he believed that for "companies that rate poorly on ESG issues, boards' and managements' likely response will be to pivot their company's business models to ones that are better for the environment and society."
Ackman said in the letter that Pershing Square planned to help the process along. "As a long-term, concentrated and engaged owner of publicly traded companies, we can help accelerate this process in a manner that is closely aligned with our strategy, which seeks to generate high long-term rates of returns for our shareholders."
On Thursday, Ackman explained his views on Strive in a statement to II. "While Vivek and I have varying points of view on different political issues, we share a belief that our country would greatly benefit if there were less concentration in ownership of corporate America by passive asset managers, and if investors were afforded the opportunity to invest in passive strategies which consider alternative perspectives in voting their shares," he said. "We believe that business is and can continue to be an important force for good, and that the use of informed and good business judgment in how shares are voted is critically important for the health of our economy and our democracy."
© 2022 Institutional Investor LLC.