---
Boeing's Buyback Spending Makes Some Analysts Jittery
Plane maker's plans raises concerns about cash flow for future buybacks and R&D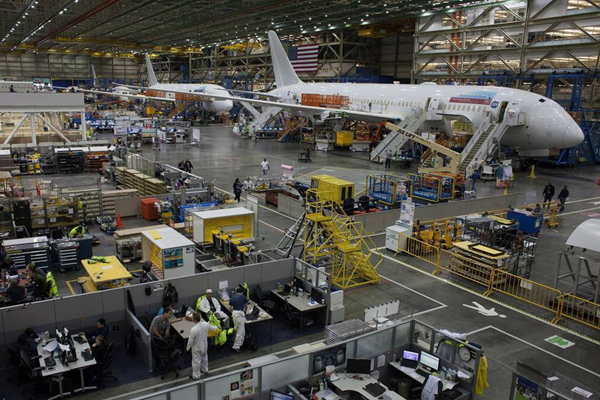 Boeing, the world's largest plane maker, ended the first quarter with $7.9 billion in cash. PHOTO: DAVID RYDER/BLOOMBERG NEWS
By Jon Ostrower
May 10, 2016 6:41 p.m. ET
Boeing Co., the world's biggest plane maker by deliveries, has spent $19 billion buying back its own stock over the past three years, a spending spree that worries analysts who think the airplane-building cycle may be near its peak.
The plane maker has been directing almost all of its free cash back to shareholders, boosting buybacks and dividends with the proceeds from record deliveries of its passenger jets.
While many investors like having excess cash returned via buybacks, some Boeing analysts worry the company is unwisely borrowing from the future. The worry is what will happen to cash flow if sales fall from their current very high levels.
Some analysts and investors watching Boeing's plans are jittery about the path for cash flows to keep rising through the end of the decade to pay for buybacks and research and development.
"The upward trajectory on cash runs out next year," said Robert Stallard, managing director at RBC Capital Markets. He said Boeing should be preserving its cash, citing a coming cut in the production of its profitable 777 jet and the billions of dollars Boeing and rival Airbus Group SE spent to right their recent jetliner programs.
A Boeing spokesman said that "the strong core operating performance across our business continues to generate significant cash flow and financial strength." He said that strength, combined with a healthy growth outlook, provides the company with a foundation to continue its balanced cash deployment strategy where it can invest in "innovative products, technology and delivering returns to shareholders."
Boeing ended the first quarter with $7.9 billion in cash and forecasts approximately $10 billion in operating cash flow in 2016, and signals it expects that to climb through the remainder of the decade. It had revenue of $96.1 billion in 2015.
The company said both its capital expenditures and research and development spending is up in 2016 and its production increases are plotted through the end of the decade. It anticipates returning an additional $10.5 billion over the next two years or so.
Boeing's plans to cut head count, increase output and the production of a more profitable mix of planes can lead to a bigger cash benefit, according to Cai von Rumohr, analyst at Cowen & Co.
The plane maker moved its buybacks into overdrive in the first quarter, spending a record $3.5 billion to repurchase 26.8 million shares.
Some investors and analysts say that without a better place to invest free cash—such as a big acquisition or new airplane project—and a slate of development programs progressing smoothly, returning the cash to shareholders is the best way to maintain an efficient balance sheet. Buybacks have sharply increased among many publicly traded companies, reducing the number of available shares ultimately with the goal of increasing the value of each share.
Boeing on Wednesday will host its annual investor forum in Seattle to provide Wall Street with insight into the company's longer-term outlook, including its closely watched cash flow.
Some analysts have also pointed to how Boeing is adding to its overall cash pile. As its factories pump out jetliners faster than ever, Boeing receives progress payments during production from buyers to build their jets.
According to one leasing company executive, Boeing during recent years has traded earlier cash payments for concessions like improved pricing or making changes to their orders.
Boeing has also asked its most stalwart customers, and biggest buyers, for earlier payments. United Continental Holdings Inc. accelerated roughly $330 million to Boeing during the fourth quarter of 2015, according to regulatory filings. Alaska Air Group Inc. also said it had provided $72 million in earlier advances to the plane maker in the fourth quarter of 2015.
Moving the payments earlier "was a favor to one of our manufacturers and it does help us out," said Mark Eliasen, Alaska's vice president of Finance and Treasurer in January. A United spokesman said the advances are part of "the normal course of business."
A Boeing spokesman said the timing of cash payments shifts from quarter to quarter and it expects its advances to continue rising with output. "We partner with our customers and suppliers to work through quarterly cash flow volatility," the spokesman said. "But it's important to note these actions go both ways."
'We partner with our customers and suppliers to work through quarterly cash flow volatility.'
—spokesman for Boeing
The plane maker is confident it can book some cash early because its big order book will keep the liquidity flowing.
Boeing Chief Executive Dennis Muilenburg said last week that order cancellations and changes were running far behind historical norms. Even if cancellations spiked, said Mr. Muilenburg, "We've in fact designed our plans to envelope those historical averages."
The company is also heading into a crucial period that could require significant research and development spending, which could include moving ahead with plans for an all-new jetliner to reverse market share losses to Airbus.
The advanced Dreamliner, however, is Boeing's ticket to a cash-rich future. Boeing has racked up deferred costs of nearly $29 billion building more than 400 of its 787 Dreamliners. The company's cash generation strategy is rooted in recovering those costs, and then some.
To fill that hole, Boeing projected at the end of the first quarter it would need an average profit of $36 million on each of the next 662 planes it has on order. The company says it won't generate positive cash on each 787 delivery until late this year. Bank of America forecasts a $14 billion shortfall, but the company reiterates its plans are on track.
Write to Jon Ostrower at jon.ostrower@wsj.com