---
Don't Make Me Do This: Rise of the Reluctant Activist
Some typically passive investors are adopting the tactics of activists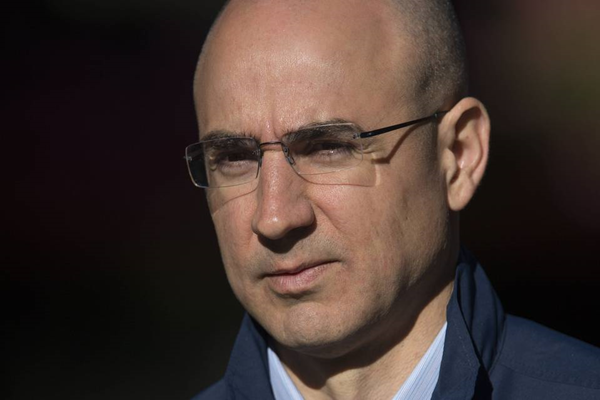 Daniel O'Keefe's investment firm Artisan Partners earlier this month publicly urged Johnson & Johnson to separate its three main businesses. Above, Mr. O'Keefe attended a conference in Sun Valley, Idaho, in 2013. PHOTO: BLOOMBERG
By David Benoit
Updated Feb. 18, 2016 7:41 p.m. ET
Investor Jeffrey Osher sat on his holdings in prepaid-debit-card issuer Green Dot Corp. for three years before he lost his patience.
In December, after a string of disappointing earnings reports that left the company's shares down sharply, the hedge-fund manager met with the board and asked directors to fire founder and Chief Executive Steven Streit, according to people familiar with the meeting. When the board refused, Mr. Osher's Harvest Capital Strategies LLC did something it had never done before: It publicly threatened to run a campaign to oust the company's directors.
Those moves put Mr. Osher into a newly emerging class of shareholders: Typically passive investors who are adopting, sometimes reluctantly, the tactics of activists.
The rise of these "reluctavists" or "suggestivists," as they are sometimes called, reflects the success of vocal shareholders in forcing corporate change, as well as broader shifts in the investing world. Changes in securities laws and an expansion of investor rights have encouraged shareholders who once deferred to management to speak up when they are unhappy.
First-time activists ran 49 campaigns against U.S. companies last year, up from 36 in 2014 and 15 in 2011, according to Activist Insight. Some 54% of all campaigns were launched by what the researcher deems "occasional" activists, up from 30% in 2011.
Two longtime airline shareholders recently changed their status to active investors from passive at United Continental Holdings Inc., the parent of United Airlines, indicating they plan to raise their voices on strategy and management. Canyon Capital Advisors LLC has joined a chorus of activists pushing Yahoo Inc. to change direction, a rare move for the $24 billion fund.
| | |
| --- | --- |
| | Harry Wilson last year led several large investors in a successful push to get General Motors Co. to buy back more shares. Photo: Michael Nagle/Bloomberg News |
Harry Wilson, an architect of the Obama administration's restructuring of General Motors Co., last year led several large investors in a successful push to get GM to buy back more shares. Angie's List Inc., meanwhile, is facing a possible fight for board seats after resisting a sale backed by TCS Capital Management LLC, an investor that first took a stake in the consumer-review website before its 2011 initial public offering.
"These are long-term investors who have reached a point where they see opportunities for value that the company isn't pursuing and after years of underperformance they are putting themselves out there," said Andrew Freedman of law firm Olshan Frome Wolosky LLP, which represents activist investors, including some first-timers. "They aren't just short-term value seekers. They are the long-suffering shareholder."
Whether this new crop of investors will find the same success as dedicated activists remains to be seen. While there are notable exceptions, such as John Paulson's Paulson & Co., most occasional activists lack the name recognition and track record of established activists like Carl Icahn or William Ackman.
Furthermore, these investors often have smaller stakes in the companies they target.
Daniel O'Keefe's $32 billion investment firm Artisan Partners earlier this month publicly urged Johnson & Johnson to separate its three main businesses. Artisan has a 0.2% stake in the health-care company, which has a market value of $284 billion.
---

'Like most people, I don't welcome battles.'

—George Young, chief compliance officer at Villere

---
J&J has met with Mr. O'Keefe several times, but it is standing by its corporate structure.
"These are not decisions that I came to on a whim," Mr. O'Keefe said. "These are conclusions that I came to after years of following the company and considering counterpoints."
Funds wading into activism for the first time say the experience can be eye-opening.
Take St. Denis J. Villere & Co., a 105-year-old New Orleans investment firm whose first foray into activism landed it in court. The family-run firm in 2014 raised concerns about legal-software company Epiq Systems Inc. after 11 years of investing in the stock. The two sides later reached an agreement to put a Villere ally on the board as Epiq launched a strategic review.
But a year later, that process had stalled, and Epiq's results disappointed the investor. Villere nominated six directors to the company's nine-member board in December.
Epiq, while saying it's open to shareholder input, said the nominations violated the earlier settlement. Epiq and Villere have traded lawsuits. The company recently named a new lead independent director and replaced two board members.
George Young, Villere's chief compliance officer and a member of its founding family, said a long-running evolution of U.S. securities law has spurred Villere to think more about how it votes its shares. That, in turn, has led it to get more aggressive with management teams.
But future public campaigns are a different story. Mr. Young, who often carpools to work with his uncles and cousins, said he was unaccustomed to the round-the-clock demands of an activist fight.
"Like most people, I don't welcome battles," he said.
Mr. Osher said he, too, would rather operate behind the scenes. But he felt Harvest, one of Green Dot's largest shareholders, needed to publicly state its case. On Jan. 25, the 16-year-old San Francisco investment firm released a 93-page presentation criticizing Green Dot's performance. It also directed shareholders to a website, www.fixgdot.com, that urged the company to immediately remove Mr. Streit.
Green Dot said its board and management held "numerous" calls and meetings with Harvest and would "carefully review" the investor's suggestions.
"I prefer to operate out of the public eye," Mr. Osher said. "I'm very disappointed this is the avenue we had to pursue."
Write to David Benoit at david.benoit@wsj.com