---
Activist Investors Are Shaking Up Business Schools, Too
Investors like William Ackman and Daniel Loeb are amassing influence—and fans—in M.B.A. programs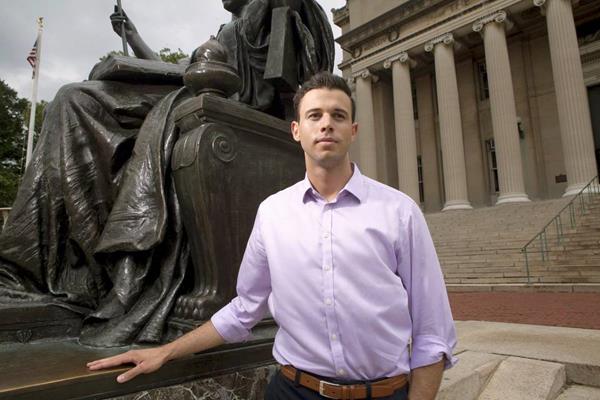 Christopher Crawford, a Columbia Business School student, follows activist investor William Ackman's campaigns. 'Activism has changed so much about business,' said Mr. Crawford. PHOTO: ANDY MCMILLAN FOR THE WALL STREET JOURNAL
By Lindsay Gellman And Liz Hoffman
Aug. 5, 2015 5:33 a.m. ET
As a teenager, Christopher Crawford idolized Warren Buffett, poring over the Berkshire Hathaway Inc. leader's shareholder letters.
Mr. Crawford's current hero might be more feared than loved. In 2012, the then-25-year-old bought a ticket to the Ira Sohn Investment Conference in New York, where he watched activist investor William Ackman deliver a three-hour presentation arguing that Herbalife Ltd., a maker of weight-loss shakes and vitamin supplements, was massively overvalued.
Mr. Crawford was hooked. He began following Mr. Ackman's campaigns, "reading everything I could get my hands on" and setting up Google alerts on the activist investor, he said. Mr. Crawford later enrolled at Columbia Business School, where he has taken courses such as Applied Securities Analysis and learned to hone investment pitches. He hopes to join a hedge fund when he graduates next year.
"Activism has changed so much about business," Mr. Crawford said. "Whether you think it's constructive or not"—and he's quick to say there are good activists and bad ones—"it's not going away."
The swift rise of activist investors such as Mr. Ackman's Pershing Square Capital Management LP and Daniel Loeb's Third Point LLC has shaken up American businesses, forcing companies to cut fat or change course. Activist ideas are also shaking up business schools, upending class discussions and attracting a new crop of future investors eager to make a name for themselves.
Even students on the corporate track have shifted their career expectations, preparing for a changed landscape where executives are keenly attuned to shareholders' demands and wary of their muscle, professors and students said.
Rising student interest has professors at Harvard Business School, Columbia Business School and Northwestern University's Kellogg School of Management, among others, churning out new case studies based on activist campaigns or inviting the major players to campus. And while professors aim to present both management and activist viewpoints, they say more students now embrace the activist outlook.
In 2006, when Harvard Business School professor Robin Greenwood first taught a case study on a 2005 campaign by activists Barry Rosenstein and Carl Icahn against oil-and-gas firm Kerr-McGee Corp., "the overwhelming sentiment in the room was that activist investors were harassing the company and they're just in it to make a short-term buck," Mr. Greenwood said.
Now, he said, "a larger portion of students come in with the perspective of the activist," with students quickly pointing out mismanagement, such as misallocation of resources or underused assets. Subsequent classes have taught case studies about Mr. Icahn and Southeastern Asset Management's campaign at Dell Inc. and Pershing Square's efforts at J.C. Penney.
And more students—who might have otherwise pursued more traditional finance roles—are considering careers in activism. As dollars under management by activists have mushroomed to $127.5 billion, according to research firm HRF, so have funds—there are now 73, up from 52 in 2007, with subsequent growth in hiring.
"There are students at Columbia with the singular goal of getting hired by Pershing Square," said Robert Jackson, a professor at Columbia's business and law schools.
---

'There are students at Columbia with the singular goal of getting hired by Pershing Square.'

—Robert Jackson, a professor at Columbia's business and law schools

---
The fund, whose longtime partner Paul Hilal received his M.B.A. from Columbia in 1992 and sits on the business school's board, is among the highest-profile activists, with recent wins at Allergan Inc. and Zoetis Inc. It recruits from the school and sponsors an annual contest challenging Columbia students to come up with an activist thesis to improve operations at a public company.
The 2015 winners got a private dinner with Mr. Ackman in May. In the backroom at Maysville, a Southern-inspired restaurant in Manhattan, the students peppered him with questions, and he peppered them back.
"There's definitely excitement around these guys and what they do," said Lance Cannon, who graduated from UCLA Anderson School of Management in June. The 33-year-old organized a student outing to Red Mountain Capital Partners LLC, a local small-cap activist hedge fund, in May, during which students asked associates about their career trajectories and how the firm picks its targets. In part, he said, students are lured by the chance to have more of an impact by investing directly in companies.
They are part of a broader shift of young Wall Streeters away from careers in banking and toward areas that offer higher pay and more freedom. New regulations have hampered big banks' ability to sink their own money into investments—a boon to hedge funds, private-equity shops and venture capitalists looking for talent.
Partly to meet student demand, b-school administrators say they're inviting more activists to speak on campus. Columbia and Stanford have hosted Mr. Loeb and David Einhorn of Greenlight Capital Inc., respectively. In January, Sally Blount, Kellogg's dean, hosted Jeff Ubben, chief executive of ValueAct Capital LP and a Kellogg alum, for an interview in front of a packed hall of students.
Critics of activism say these investors chase quick profits and steer companies away from making the necessary investments for the future. In welcoming activists and their ideas, schools are glamorizing what can be a destructive process, said Lynn Stout, professor of corporate and business law at Cornell Law School.
"There's plenty of evidence to support the view that activism does far more harm than good," she said.
Still, it appears likely to remain a fixture of corporate life. The number of activist campaigns year-to-date has risen 63% since 2009, according to FactSet, and an influx of investor dollars have enabled activists to take on larger targets.
Activist ideas—chiefly, a focus on maximizing shareholder profits—have found supporters even among students bound for careers as corporate managers.
Matthew Preston, a rising junior at Indiana University's Kelley School of Business undergraduate program, said he hopes to work at one of the major Wall Street banks, which cater mostly to corporate clients. These firms are increasingly advising companies to be their own activists by staying lean, rooting out waste and taking stock-boosting measures—and prioritizing the bottom line above all else.
" 'If I invest in this company, how can I make the biggest returns?' Whatever career I end up going into, I'll always have that in the back of my mind," he said.
Harry Kraemer, professor of strategy at Kellogg, said business schools must prepare aspiring executives to keep a clear head when an activist calls. "There's nothing to be emotional about," he said. "Activists are just one more group of constituents you deal with in leading a company."
Write to Lindsay Gellman at Lindsay.Gellman@wsj.com and Liz Hoffman at liz.hoffman@wsj.com