---
Goldman Sachs Recaptures Mojo With DuPont Win
The bank's fortunes changed for the better last week when Goldman Sachs helped DuPont prevail in a high-profile feud with an activist firm.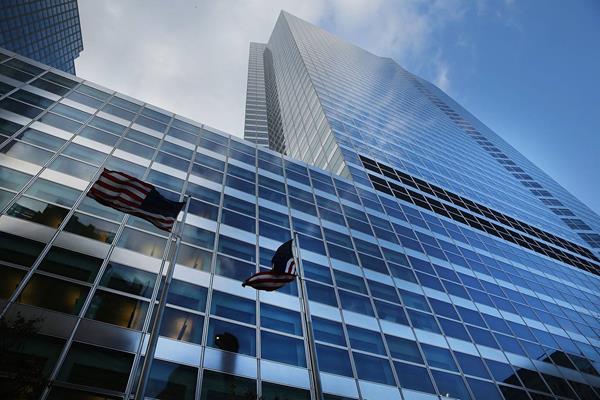 Goldman Sachs headquarters in New York. A recent victory enabled the bank to regain some bragging rights. Photo: SPENCER PLATT/GETTY IMAGES
By David Benoit and Justin Baer
Updated May 21, 2015 11:17 p.m. ET
For months, Goldman Sachs Group Inc.'s activism-defense business has been the butt of competitors' jokes.
"If you want to lose, hire Goldman Sachs," quipped Rob Kindler, the head of mergers and acquisitions at the firm's arch rival Morgan Stanley, at a conference in March.
Goldman Sachs, long considered to be the firm to beat on Wall Street, endured a pair of stinging defeats lately in its efforts to help clients ward off activist investors. In May, auction house Sotheby's opted to settle a bitter quarrel with Daniel Loeb, giving the activist three seats on its board and paying him some $10 million for expenses. Darden Restaurants Inc., another client, lost all 12 of its board seats to Starboard Value LP in October.
But the tables turned last week when Goldman—led by the firm's head of defense William Anderson—helped DuPont Co. fend off activist firm Trian Fund Management LP in a high-stakes, high-profile battle.
The win has allowed Goldman to regain some bragging rights in what is becoming one of Wall Street's most competitive arenas. As activists become increasingly aggressive, advising companies on how to defend themselves has become a niche, if not always lucrative, business for many banks.
Banks that help companies defend against activists can win an inside track for the clients' future deals later, where there is real money to be made. For instance, Goldman Sachs last year advised eBay Inc. in its fight with Carl Icahn and then won a mandate to help eBay separate its PayPal unit.
| | |
| --- | --- |
| William Anderson Photo: GOLDMAN SACHS | |
And despite its public ribbing by Mr. Kindler, Goldman is still the No. 1 firm in terms of being hired to help a company defend itself against activists, according to FactSet, acting for eight companies this year, including Macerich Co. , retailer Children's Place Inc., and retirement-home operator Brookdale Senior Living Inc. In 2014, Goldman was also the most active, advising on 23 public campaigns. Among its historic wins were Clorox Co., Oshkosh Corp. and AOL Inc.
Still, the advisers on many campaigns never come to light, making it hard to measure one bank's performance against another.
At Goldman, the job of leading the defense for DuPont and the firm's other clients has fallen to 49-year-old Mr. Anderson since 2003. Mr. Anderson and his team report to the bank's heads of global mergers and acquisitions.
When Mr. Anderson took the job, the business of advising on activist-defense barely existed and hostile deals were slow. Other bankers were reluctant to take such a job, afraid it wouldn't generate much revenue, or yield them bonuses, people familiar with the matter say.
But by tapping his legal background—he had previously been a lawyer at Simpson Thacher & Bartlett LLP—Mr. Anderson began monitoring regulatory filings that disclose when an investment firm buys into a company.
Mr. Anderson studied previous campaigns to learn the tendencies of activists, and he got to know them. He compiled detailed dossiers on the leading activist investors, such as Mr. Icahn and William Ackman, centralizing information that could be used by fellow Goldman bankers.
A key to Mr. Anderson's approach, the people say, has been his ability to help clients understand and better cope with activists, who can wield tremendous power—even simply by doing a television interview—and swallow management's time.
"As an activist, when Bill Anderson is on the other side, you have to be on your toes," said Steve Wolosky, a lawyer for activists at Olshan Frome Wolosky LLP.
In the case of DuPont, John Vaske, who has a long relationship with DuPont as co-chairman of the firm's global natural-resources group, worked closely with Mr. Anderson. DuPont was also advised by bankers at Evercore Partners Inc. including Roger Altman, the advisory firm's founder and a former deputy Treasury Secretary.
After Trian, led by Nelson Peltz, began its DuPont campaign roughly two years ago, Messrs. Anderson and Vaske helped review Trian's suggestions to break up the company and slash costs, according to people familiar with the matter—moves that the board largely rejected.
Mr. Peltz campaigned for a board seat and while some investors questioned the danger of adding a single director from Trian, the Goldman bankers helped to argue the case that as a director, Mr. Peltz would be overly focused on a breakup to the detriment of the company.
Influential proxy-advisory firms Institutional Shareholder Services Inc. and Glass Lewis & Co. had recommended shareholders elect Mr. Peltz to the board. DuPont was caught off guard by the Glass Lewis decision and the Goldman bankers helped prepare DuPont's management as it rushed to persuade large investors who tend to agree with such recommendations.
"Goldman Sachs has been a longtime valued adviser," a DuPont spokeswoman said. "We have benefited greatly from their ongoing engagement as we have continued to build and position the next-generation DuPont over the last several months."
While DuPont ended as a win for Goldman Sachs, many bankers say that such victories may become increasingly rare across Wall Street. Activists are becoming more sophisticated as they agitate for change, making it harder for companies to swat them away.
"DuPont's victory is a notable exception to the growing trend of activist victories," lawyers at Wachtell, Lipton, Rosen, & Katz, long a Goldman ally, wrote to clients this week, adding the campaign itself "underscores the challenges faced by all companies dealing with activists in the current environment."
Write to David Benoit at david.benoit@wsj.com and Justin Baer at justin.baer@wsj.com