---
An Activist Investor Is Urging Darden to Break Itself Up
By MICHAEL J. DE LA MERCED and ALEXANDRA STEVENSON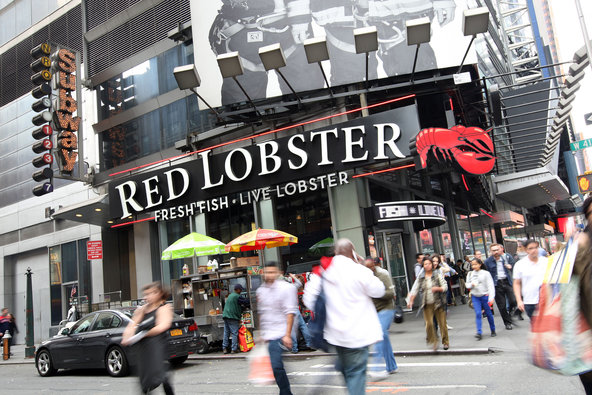 Hiroko Masuike/The New York Times
Red Lobster in Times Square, a Darden restaurant. Barington Capital said if the company separated into as many as three companies it could return significantly more money to shareholders.
Over 45 years, Darden has grown from a single restaurant in a landlocked Florida city to a 2,100-outlet empire, with its Olive Garden and Red Lobster brands blanketing the country.
But as the company struggles with a stagnant stock price, the activist hedge fund Barington Capital is calling for a drastic solution: breaking the company into as many as three separate businesses, according to a letter sent to its board last month that was reviewed by The New York Times.
The plan includes separating the Olive Garden and Red Lobster chains from faster-growing brands like LongHorn Steakhouse and the Capital Grille. And it encourages Darden to explore either selling its real estate and leasing it or to spin off its voluminous holdings into a publicly traded real estate investment trust.
Still, the efforts of Barington, which says it represents a group that owns more than 2 percent of Darden's stock, reflects the continued focus of Wall Street firms in the restaurant industry. Activist investors have taken an interest in chains like Cracker Barrel Old Country Store and Wendy's, calling for significant changes in business strategy.
Darden is one of the biggest targets in the industry, with a market value of $6.6 billion. But the company has struggled financially as consumers tightened their grip on their wallets, and its stock price has fallen 8.5 percent over the last 12 months.
Jim C. Yin, an analyst at Standard & Poor's Capital IQ, also said that the company was still trying to open new stores and act like a growth company when its industry had matured and many of its peers had instead focused on returning cash to shareholders.
Last month, Darden announced that sales at Olive Garden dropped by 4 percent and fell by 5 percent at Red Lobster, its two biggest brands, in the first half of this year. It has already disclosed efforts to shave off $50 million in annual expenses, including through layoffs.
Now it has found itself the target of Barington, a hedge fund that promotes itself as a constructive activist investor with a focus on consumer and industrial companies. The firm has quietly helped spur changes in the industry. For example, the Jones Group, the fashion company that owns brands like Anne Klein, began pursuing a sale after the hedge fund disclosed a stake earlier this year.
But Barington has not been afraid to take the gloves off in earlier campaigns, either. In 2010, it publicly admonished the Ameron International Corporation for being too generous with executive salaries and later called on the chairman and chief executive to resign. In 2007, it put pressure on A. Schulman to replace its chief executive.
So far, the two sides have kept matters cordial, exchanging e-mails and phone calls. And in June, Barington officials met with senior executives at Darden to discuss how to improve the company's performance.
In a statement, Barington acknowledged the meetings. It added, "We believe that Darden has the potential to deliver significantly higher returns to shareholders and anticipate continuing our ongoing dialogue."
Darden said in a separate statement: "Darden welcomes input toward the goal of enhancing shareholder value. While it's the company's policy not to comment on specific discussions with shareholders, the company has had dialogue with Barington Capital and the board will take the time necessary to thoroughly evaluate Barington's suggestions, just as the company does for any of its shareholders."
Over the last several months, Barington has urged Darden to broaden its overhaul efforts. In a letter to the board, sent on Sept. 23, the hedge fund argued that the company had become too big to run efficiently, with a multitude of brands with different needs competing for limited resources.
"The company itself has changed — becoming, in our opinion, more complex and burdened as well as less nimble and innovative," James A. Mitarotonda, Barington's founder, wrote.
Such a strategy would follow in the footsteps of Brinker International, the parent of Chili's Grill and Bar. Brinker sold six brands over the last decade, including Romano's Macaroni Grill, to focus on Chili's and Maggiano's Little Italy. Since announcing the sale of On the Border in June 2010, the company's stock has jumped 173 percent.
In the eight-page letter, Barington called for separating Darden's mature brands from its higher-growth chains. The former group would acknowledge its slow-growing sales and instead pay shareholders a healthy dividend. The latter, composed of LongHorn, Capital Grille, Bahama Breeze and three other brands, would focus on reinvesting profits to bolster growth.
And the hedge fund pointed to Darden's real estate holdings as a potentially huge untapped trove of riches whose worth it estimates at $4.1 billion. The company owns the land and buildings for 1,048 of its restaurants and the buildings on 802 more sites. Barington urged the company to consider moves ranging from selling the properties and leasing them back to spinning them off into a publicly traded real estate investment trust, which could reduce its tax bill.
The hedge fund has also suggested moving most of Darden's debt onto the real estate company, contending that its healthy cash flow could support the burden while freeing up the restaurant companies' balance sheets.
But analysts at Bank of America Merrill Lynch cautioned in a recent note that any moves to sell properties to help shareholder returns — without using some of the proceeds to reduce debt — could lead to a downgrade to its credit rating. They also pointed out that Darden might be limited in how much real estate it can sell because of corporate bond contracts.
Analysts broadly agree on the problems Darden faces, though not on the solutions. Discussions about how the company can revive its fortunes has been "in the chatter" since the beginning of the year, said Sara Senatore, an analyst at Bernstein Research.
Lynne Collier, an analyst at Sterne Agee, said that Darden has some good brands that, if spun out, could fetch a higher trading multiple. But she expressed skepticism about spinning out the real estate.
Other analysts argued that the company should remain together, with the cash flow from the mature Olive Garden and Red Lobster brands helping to finance their counterparts. Separating the two could harm the growth of the younger chains.
Mr. Yin of Capital IQ argued that the two groups of Darden chains were similar enough to each other, with not enough difference in growth rates, to justify splitting them up.
Peter Saleh, a restaurant analyst at the Telsey Advisory Group, said, "The question is, What are all these pieces worth? Are they worth more if you break them up versus what they are worth today?"
A version of this article appears in print on 10/17/2013, on page B9 of the NewYork edition with the headline: An Activist Investor Is Urging Darden to Break Itself Up.
---