Opinion On Wall Street
Dell's return to stock market leaves a bitter taste
Billionaire relists the PC company he founded at a much higher valuation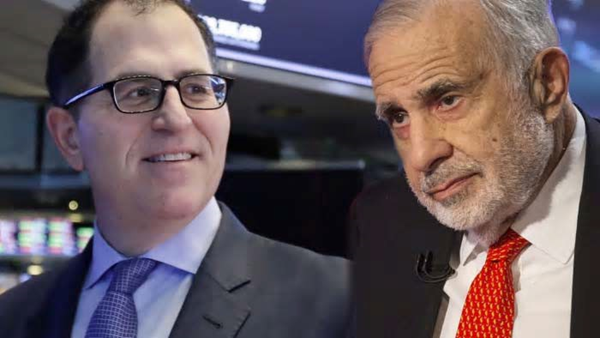 Carl Icahn, right, said Michael Dell's 2013 buyout froze other shareholders out of 'realising Dell's great potential' © AP
'
Sujeet Indap [JULY 27, 2018]
---
Carl Icahn knew what he was talking about. In September 2013 when he conceded defeat over his plan to stop Michael Dell's $25bn buyout of the Texan's eponymous computer company, he said the founder's bid "freezes stockholders out of any possibility of realising Dell's great potential".
Five years later, we know what that potential was. Mr Dell and his sidekicks at the investment firm Silver Lake Partners took Dell private in that deal, which closed in 2014. The group is now about to relist Dell's shares, via a complex transaction, after turning the once moribund PC maker into a broad-based provider of corporate technology that has an estimated equity value of about $70bn. Based on that valuation, Mr Dell will have turned a $4bn investment into $32bn. The roughly $2bn Silver Lake invested in Dell since the buyout will be marked at $12bn.
The 2013 Dell management buyout became a touchstone on corporate governance, activist investing and private equity. Despite anger and allegations, there were no official findings that Dell's ordinary shareholders were short-changed by either the Texas tycoon or the Dell directors who were supposed to be looking out for them. But the sense that Mr Dell pulled a fast one on Dell shareholders — as well as those of EMC, a massive software vendor that Dell took over in 2016 for $67bn — has lingered. Their windfall profits, soon to be crystallised, are just the latest proof for those who have been sounding the alarm that America is too lax in scrutinising the actions of chief executives and boards of directors.
Mr Icahn's "great potential" comments aside, it is difficult to overstate how sour sentiment was on Dell leading up to the buyout. Its shares were trading at just a third of their five-year high, while spending nearly $15bn on buying software companies in order to reinvent itself had yet to bear fruit.
When Mr Dell announced that he wanted to buy the company, of which he then owned 14 per cent, he believed that a Dell transformation could not happen in the glare of public markets. He and Silver Lake were willing to shoulder the financial and execution risk to fix Dell. In exchange they offered other shareholders a 40 per cent premium to give up their stock.
Suddenly that same public market that had been sceptical about Dell's long-term prospects was concocting scenarios in which Dell could be worth multiples of Mr Dell's buyout price. Mr Icahn and another major shareholder proposed a structure called a leveraged recapitalisation that would have kept Dell public. Mr Dell and Silver Lake, in response to the firestorm, raised their bid by a small amount. That bump, along with bending the rules in their favour by allowing arbitrageurs a say in the shareholder vote, was enough to close the buyout.
Still, the legitimacy of the buyout would be tested in court. A concept in Delaware corporate law called appraisal allows shareholders to ask a judge to assign "fair value" if they believe a buyout price is inadequate. A group of dissenters, which included not only specialist hedge funds but the big institutional group T Rowe Price, believed that Dell's fair value was more than double the deal price. The judge disagreed with that number but concluded that the price the independent Dell directors had negotiated was not nearly enough. Citing "investor myopia" and a "valuation gap" at the time of Mr Dell's bid, the judge's valuation was a quarter higher than the deal price.
Late last year, the judgment was overruled by the Delaware Supreme Court, which concluded that Dell shares traded in an efficient market and, as such, the deal price itself reflected its fair value. One of the investors who challenged the Dell buyout price in the Delaware courts dismissed the idea of an efficient market — where stock prices perfectly reflect all information about a company — telling me that the efficient markets hypothesis is "debunked finance 101 from 50 years ago. Not a single professor will tell you that financial markets are efficient."
Courts aside, shareholders themselves may now become more vigilant. "The Dell deals could be a watershed. Institutions have been wary of 'cratering' a deal that a board of directors is recommending and creating headline risk for themselves," said Chris Cernich, founder of Strategic Governance Advisors and a former managing director at the proxy adviser ISS. "But the enormous profits for the Dell buyout group show the risk in providing a rubber stamp."
Mr Cernich's thesis is about to be tested. To relist its shares, Dell has to persuade shareholders of a tracking stock issued to shareholders of EMC at the time of that acquisition to agree to a share swap. That tracking stock has traded at a 30-40 per cent discount to its fair value and its very creation helped make Mr Dell and Silver Lake billions. Mr Icahn happens to own a position in the tracker. Sources close to Mr Icahn said he had not made up his mind on how to vote, but he has another big chance to register his disapproval.
sujeet.indap@ft.com
---
Copyright The Financial Times Limited 2018.