---
Sep 19, 2016 @ 03:54 PM
Michael Dell's MSD Capital Joins Shareholders Challenging NorthStar And Colony Capital Merger
Antoine Gara, Forbes Staff

I cover the good, the bad and the ugly of finance.
The biggest shareholders in NorthStar Asset Management are challenging the real estate investment firm's merger with Thomas Barrack's Colony Capital, arguing that the tie-up undervalues their shares and should be restructured.
For months, activist hedge fund Land & Buildings has taken on NorthStar, arguing its management has continued to collect unwieldy compensation even as the company's shares and its spun-off commercial real estate REIT, NorthStar Realty Finance, dramatically under-performed the broader real estate sector. In June, NorthStar and Colony agreed to a three-party combination that would re-combine the asset manager with its REIT and merge the entity with Colony Capital. When the deal was announced, Land & Buildings's vocal head Jonathan Litt supported the strategic objectives of the merger, but maintained an activist stance because he said it shortchanged NSAM investors and did not come with strong governance.
Most recently, Land & Buildings said in a Sept. 14 letter it believes NorthStar Asset Management should be valued at $2.9 billion and not the $2.4 billion that is implied by the June merger of equals stock exchange ratio. Litt is also seeking shareholder representation inside the combined NorthStar and Colony to help guard against potential governance shortfalls or shareholder unfriendly maneuvers, and he wants the company to articulate a more clear "core and core plus" real estate investment mandate.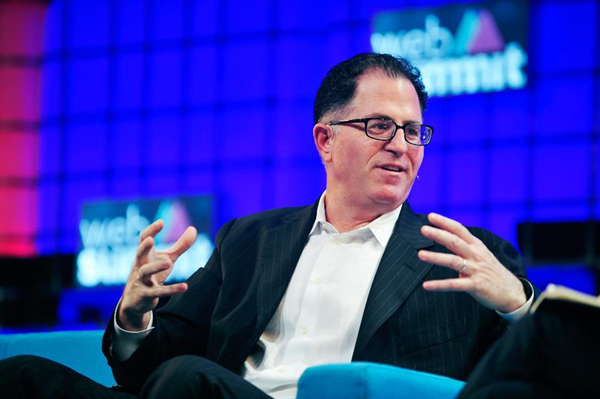 Michael Dell, founder and chief executive officer of Dell Inc., is the owner of MSD Capital. Photographer: Aidan Crawley/Bloomberg
In mid-August, hedge fund Abrams Capital, a 5.8% holder of NorthStar Asset Management's shares turned activist, disclosing in a filing it intended to vote against its Colony merger. In a filing, Abrams Capital said it has "studied the background and terms of the proposed merger among the Issuer, NorthStar Realty Finance Corp. and Colony Capital, Inc. The Reporting Persons do not believe that the merger as proposed is in the best interests of shareholders of the Issuer and currently intend to vote against the transaction."
Now, billionaire Michael Dell's investment company MSD Capital is joining this chorus of discontented investors.
On Monday, MSD Capital, a 10.2% NSAM holder, released a letter indicating it would vote against the current deal due to concerns on valuation and governance. "We have communicated to both the Special Committee's advisors and the management of Colony that we do not intend to vote for the transaction as currently proposed," MSD Capital said. Like Land & Buildings, MSD believes a restructured merger deal that includes improved governance safeguards can gain the backing of shareholders.

"We agree that the proposed combination has the potential to create significant value though scale, cost synergies, strategic focus and enhanced valuation. The combination could be a positive transformational transaction for all three companies," MSD Capital said. "However, we also believe that, as currently structured, the proposed combination does not provide sufficient value to NSAM's stockholders. In addition, the currently proposed governance structure for the combined company falls short of good governance norms in many key respects," the fund said.
NorthStar and Colony's merger would create one of the world's biggest real estate investment firms, with a heavy presence in commercial, retail and residential real estate. Last year Colony Capital went public by way of a combination with its publicly traded REIT, Colony Financial. After sub-par performance in 2015, Colony and its billionaire head Thomas Barrack then sought to achieve added scale through a merger with NorthStar, founded by former Goldman Sachs real estate bigshot David Hamamoto.
When combined, the merged NorthStar and Colony is expected to manage some $58 billion in assets, an have both an improved balance sheet and the ability to find $115 in annual cost synergies.
The prospective combination mirrors consolidation across the real estate management business as firms seek scale and cost efficiency. In fact, in December, residential landlord Colony American Homes (35% owned by Colony Capital) was acquired by Starwood Waypoint for $1.5 billion. Around that time, American Residential Properties and American Homes For Rent also merged, in a deal that generated a big windfall for Land & Buildings' Litt.
MSD Capital's joining of the chorus of investors contesting the NorthStar and Colony merger is somewhat of an odd twist.
After all, MSD's namesake, billionaire Michael Dell, was accused by Carl Icahn, T. Rowe Price and Southeastern Assert Management of shortchanging investors when taking Dell private in a $24.9 billion leveraged buyout in 2013. That deal allowed Dell to retool its operations outside of the public spotlight and eventually bid on EMC in a $67 billion takeover that effectively returns P.C. maker to public stock markets as a full-service IT company with the scale to compete against Hewlett-Packard Enterprise and IBM.
Perhaps, just as Dell seeks a second shot on public markets as a friendlier and better-performing tech giant, NorthStar and Colony can reshape their merger to win the backing of big shareholders.
A spokesperson for NorthStar didn't immediately respond to an email seeking comment. NorthStar Asset Management shares were rising 1.4% in late trading at $12.33, while Colony Capital shares were up over 2%. NorthStar Realty Finance shares were little changed.