Technology News | Wed Sep 7, 2016 2:50pm EDT
NetSuite shareholder T. Rowe Price opposes sale to Oracle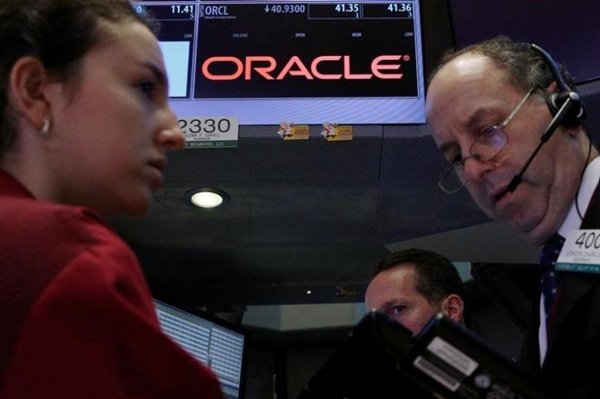 Traders gather at the post where Oracle is traded on the floor of the New York Stock Exchange (NYSE) in New York City, U.S., July 28, 2016. REUTERS/Brendan McDermid
Investment manager T. Rowe Price Group Inc expressed opposition to Oracle Corp's proposed acquisition of U.S. cloud computing company NetSuite Inc, saying the $9.3 billion deal price is too low.
In a letter NetSuite made public on Wednesday, T. Rowe told the company's board that it would not tender its shares. This could put pressure on Oracle Chairman Larry Ellison to consider making a new offer to combine his software company with NetSuite, in which he holds a 40 percent stake.
A majority of NetSuite shareholders not affiliated with Ellison must tender their shares for the deal to happen. As the company's largest shareholder after Ellison with an 18 percent stake, T. Rowe could significantly influence the outcome.
Large mutual fund managers rarely make their views public. Most prefer to pressure corporate executives in private meetings or to sell shares of companies whose strategies they question, although T. Rowe has been the occasional exception.
Chris Davis, a partner in law firm Kleinberg Kaplan who focuses on M&A and activism, welcomed T. Rowe's letter, because it gives companies "clear guidelines for the future about what they will have to do to satisfy their most sophisticated institutional shareholders."
T. Rowe, NetSuite and Oracle declined to comment.
Oracle said in July that it would buy NetSuite for $109 per share in cash to increase its ability to help its corporate customers automate administrative operations.
NetSuite stock was trading just above that price at $109.30 on Wednesday, indicating some investors expected a new deal.
T. Rowe said it was disappointed NetSuite did not reach out to other potential buyers before agreeing on a price with Oracle.
"At $109 per share, our preference is for NetSuite to remain independent," T. Rowe said.
It added that potential bidders would probably avoid NetSuite because of its "unique relationship" with Ellison.
"In our view, the inherent conflicts of interest between NetSuite, the Ellison entities and Oracle are daunting and may be impossible to manage," T. Rowe said.
T. Rowe, however, said it appreciated some conditions NetSuite put into place, such as the minimum acceptance threshold in the tender offer. NetSuite also formed a special committee of independent board members to consider the deal.
In 2013, T. Rowe opposed Michael Dell's deal to take his eponymous computer maker private.
Shareholders can take legal action if they believe a deal undervalues their company, provided they do not tender their shares. Dell had to pay tens of millions of dollars to shareholders following such a lawsuit.
(Additional reporting by Ross Kerber in Boston and Narottam Medhora in Bengaluru; Editing by Tom Brown and Lisa Von Ahn)