THE WALL STREET JOURNAL. | Markets
---
Hedge Funds Plan to Seek Higher Price for Safeway
Hedge Funds Holding About 8% of Grocery-Store Chain Plan to Seek Higher Price in Court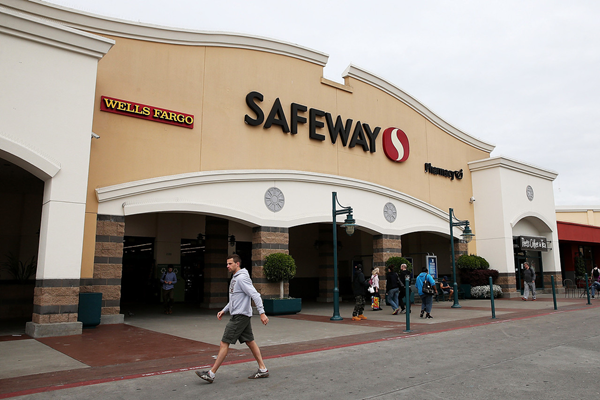 Customers leave a Safeway store in San Francisco, California. Photo: Getty Images
By Liz Hoffman
Feb. 2, 2015 4:48 p.m. ET
Hedge funds holding about 8% of Safeway, which was sold last month for about $7.5 billion, plan to seek a higher price in court for the grocery-store chain, the latest exercise of an increasingly popular legal tactic known as appraisal rights.
Merion Capital LP has the largest position among the funds, people familiar with the matter said. Pennsylvania-based Merion owned 10.5 million shares of Safeway as of Sept. 30, according to a regulatory filing, or more than 4% of the company.
Magnetar Financial LLC, Muirfield Capital Management LLC and Brigade Capital Management LP are among the other funds owning Safeway shares and planning to exercise the rights, some of the people said. All told, holders of 17.7 million shares—worth about $575 million at the buyout price—have notified the company that they plan to seek an appraisal, one of the people said.
The dissenting investors have about four months to file a formal claim. They could also change their mind and accept the buyout price.
Albertsons, controlled by Cerberus Capital Management LP, paid $32.50 a share for Safeway, the country's second-largest grocery chain by market share. The deal, which was announced last March, closed Jan. 30 after a lengthy antitrust review.
In an appraisal, a judge determines the fair value of a company's shares at the time of a deal's closing. Investors also get paid interest on their stakes while the cases are pending.
In Safeway's case, the time lag between when the deal was announced and when it closed could play to appraisal-seekers' advantage, some of the investors said. Since the deal was announced, grocery stocks have soared, helped in part by a drop in oil prices that has put more money in consumers' pockets. Shares of market leader Kroger Co. , for example, are up roughly 90% over the past year. The agreed price for Safeway may also undervalue its real estate, a person at one of the funds said.
So-called appraisal arbitrage — buying shares of a company on the brink of a buyout and seeking more in court after the deal closes — is an increasingly popular hedge-fund strategy. A record 33 such claims were brought in 2014 in Delaware, according to a Wall Street Journal review of court filings.
Merion, the largest player in appraisal arbitrage, has about $1 billion under management and is participating in at least five active cases, including the buyouts of Dole Food Co. and BMC Software Inc.
Historically, most such cases yielded at least small price bumps. The outcome of the latest crop of filings is unclear as most are still pending.
Last week, a judge denied claims by Merion and other funds challenging the price paid in 2012 for family-tree website Ancestry.com, awarding them the same amount other shareholders received. The next big test for the strategy is coming later this month, when a trial is set to begin over Dole's 2013 buyout.
Write to Liz Hoffman at liz.hoffman@wsj.com