Warren Buffett defends buybacks to Berkshire Hathaway shareholders
The 92-year-old's annual letter to investors was his shortest in decades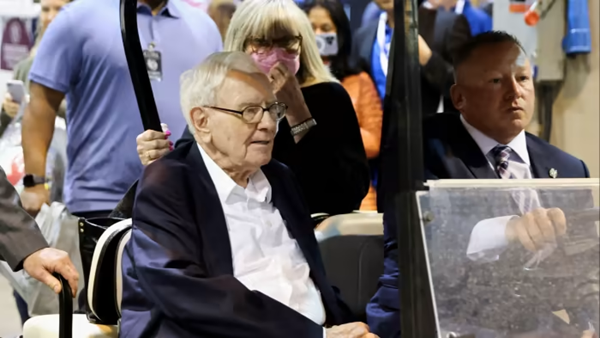 Berkshire Hathaway CEO Warren Buffett meeting investors in 2022 © REUTERS
Eric Platt in New York FEBRUARY 25 2023
---
Warren Buffett offered a full-throated defence of share buybacks in his annual letter to Berkshire Hathaway shareholders on Saturday, saying stock purchases by Berkshire and the dozens of publicly traded companies it owns are a boon to investors.
The comments from the 92-year-old investor came in the shortest annual letter he has published in decades and accompanied results that showed Berkshire suffered a $22.8bn loss last year, driven by a slide in the value of its stock portfolio.
Buffett's defence comes weeks after a new tax on stock buybacks went into effect in the US. The tax was one of the few revenue raising measures that found unanimous support among Democrats in the Senate when they passed the Inflation Reduction Act, president Joe Biden's sweeping climate and tax law.
Supporters of the tax have argued that buybacks do little to bolster the underlying economy and could be spent on capital expenditures or returned to workers in the form of better pay. Others, including Buffett, contend buybacks can offer a prudent way to deploy capital.
"When you are told that all repurchases are harmful to shareholders or to the country, or particularly beneficial to CEOs, you are listening to either an economic illiterate or a silver- tongued demagogue (characters that are not mutually exclusive)," Buffett wrote.
The Berkshire chief executive said that when repurchases were "made at value-accretive prices" it benefited all shareholders, pointing to investments his company made in American Express and Coca-Cola in the 1990s.
While Berkshire has stopped buying new shares in those businesses, buybacks completed by American Express and Coca-Cola have boosted the sprawling conglomerate's ownership in the two companies and made Berkshire their largest investor.
Berkshire has ramped up purchases of its own stock in recent years, particularly at times when Buffett was finding few appealing investment alternatives. The company spent $7.9bn in 2022 buying up its own shares.
Repurchases this year will be taxed for the first time, with officials projecting stock buybacks could generate $74bn in revenues for the US Treasury over the next decade. That figure could rise further if US policymakers increase the 1 per cent tax rate.
Buffett told shareholders on Saturday that he expected Berkshire to pay much more in taxes over the coming years as the sprawling conglomerate grows, calculating that the company had paid $32bn in taxes over the past decade.
"We owe the country no less: America's dynamism has made a huge contribution to whatever success Berkshire has achieved — a contribution Berkshire will always need," he wrote. "We count on the American Tailwind and, though it has been becalmed from time to time, its propelling force has always returned."
Buffett offered few nuggets of wisdom in an annual letter that is normally pored over by the public for his thoughts on investment and the world.
The letter was a brief 10 pages, about half the length of his letters since 2000, and included almost a page of quotes from his longtime partner Charlie Munger. His letters have got shorter as he has aged; however, the hundreds of pages he has written to shareholders since the 1970s mean that investors only have to thumb through his archives to find his views.
Buffett struck an upbeat tone as he delivered some of his greatest hits: "Efficient markets exist only in textbooks", the critical importance of "the power of compounding", and "avoid behaviour that could result in any uncomfortable cash needs at inconvenient times".
"The lesson for investors: The weeds wither away in significance as the flowers bloom. Over time, it takes just a few winners to work wonders. And, yes, it helps to start early and live into your 90s as well," he wrote.
Berkshire reported an $18.2bn profit in the fourth quarter of 2022, down more than 50 per cent from the prior year. For the full year, the company swung to a net loss of $22.8bn, from a profit of $89.8bn in 2021.
However, those figures were dramatically affected by the slide in prices of Berkshire's $309bn stock portfolio, which fell alongside a broader sell-off in financial markets. Accounting rules require Berkshire to report those unrealised gains and losses each quarter in its results.
Buffett said this measurement was "100 per cent misleading when viewed quarterly or even annually".
The company's underlying businesses, which includes the BNSF railroad and Dairy Queen ice cream purveyor, generated a $6.7bn profit in the final three months of the year, down 8 per cent from the prior year.
Buffett said full-year operating earnings of $30.8bn were a record high for Berkshire.
The company's cash pile swelled to $128.6bn at year-end from $109bn in September. Berkshire in the final quarter sold more than $16bn worth of stocks, dumping shares of chipmaker Taiwan Semiconductor Manufacturing, regional bank US Bancorp and Bank of New York Mellon.
Despite adding no new stocks to his portfolio in the final quarter, Buffett has been finding other places to deploy Berkshire's cash. Earlier in the year he spent tens of billions of dollars buying up shares in oil majors Occidental Petroleum and Chevron, and in the fourth quarter Berkshire's takeover of rival insurer Alleghany was completed.
The company disclosed on Saturday that it had bought a 41.4 per cent stake in truck stop chain Pilot Flying J for $8.2bn in January, giving it a majority stake in the business. Berkshire first purchased an interest in the company in 2017 but had not disclosed financial details of the transaction until this weekend.
Its annual report also showed Berkshire increased capital expenditures at both its energy and railroad units.
But the report, given Berkshire's vast business empire with more than 380,000 employees, offered further signs of the unevenness in the US economy.
The company said its apparel businesses, which includes the Fruit of the Loom brand, was downsizing as retailers struggle with elevated inventories and slowing sales. TTI, which distributes electronic components, said that "slowing of new orders was observed across nearly all regions in the fourth quarter".
Higher interest rates have hit Berkshire's building and construction units acutely. Clayton Homes, a maker of modular homes, said its backlog had declined precipitously and that it expected new home sales to remain challenged.
And one of Berkshire's crown jewels — the Geico auto insurance unit — suffered its sixth consecutive quarterly underwriting loss. Berkshire disclosed that it had won the backing from some US states to increase the premiums it charges customers, given the higher claims it has had to pay out in recent years.
"As a result, we currently expect Geico to generate an underwriting profit in 2023," Berkshire said.
---
Copyright The Financial Times Limited 2023. All rights reserved.