---
US Corporations Are Still Lining Up to Buy Back Their Own Shares

■ Market's biggest buyer spent an estimated $1 trillion in 2022

■ Business confidence holds up even as investor sentiment sours
By Lu Wang
January 9, 2023 at 12:23 PM EDT
The rising threat of an economic recession has done nothing to dissuade Corporate America from spending big on its own shares.
American firms announced a record $1.26 trillion of share buybacks in 2022, up 3% from a year ago, according to data compiled by Birinyi Associates. By the firm's estimate, companies executed on 82% of that total, spending $1.03 trillion. And the outlays aren't just to offset employee stock grants that would otherwise dilute ownership, Birinyi found. The number of shares outstanding has shrunk for the top buyers in recent years, a sign that those repurchases have bolstered equity prices, or in the case of 2022's bear market prevented losses from snowballing.
As companies retrench for an economic slowdown, cutting costs on everything from advertising to travel and hiring, the continued commitment to share buybacks serves as a counter to the doom and gloom on Wall Street.
"Despite 98% or whatever survey you want to use of CEOs saying they are worried about a recession, they are still comfortable enough to spend money on stock buybacks, so are they really that worried?" said Jeff Rubin, director of research at Birinyi Associates. Barring a severe recession, another year of $1 trillion or more of buybacks wouldn't be surprising, he said.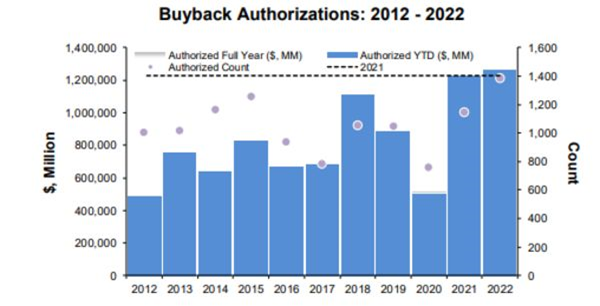 Source: Birinyi Associates
The steady demand from repurchases continues to be one the few upward forces left in the market at a time when investors of all stripes have been pulling back from stocks. About one week into 2023, an index tracking companies with the highest buybacks has beaten the S&P 500 by 1.9 percentage points — the second-best start to a year since 2009. During the past decade, the basket outperformed by 45 percentage points.
Spending money on stock has repeatedly drawn criticism from politicians and academics who say the cash would be better used to help boost long-term growth, such as employee benefits and equipment upgrades. A law imposing a 1% tax on buybacks goes in effect this year.
Money managers who worry that the Federal Reserve's aggressive rate hikes threaten to thrust the economy into a recession and hurt corporate earnings are urging business leaders to rein in the expenditure. In the latest Bank of America Corp. survey, 56% of pros preferred chief executives to focus on strengthening their balance sheets, compared with 16% who favored buybacks.
Of course, it's far from certain that corporate America's buying spree will continue. In a November note by Goldman Sachs, strategists led by David Kostin forecast buybacks to fall 10% in 2023. In the event when the economy falls into a recession, the team predicted, buybacks would drop 40%.
There is also doubt whether companies are carrying out repurchases to counter the dilution effect when stock grants to employees are exercised. In the view of Birinyi's Rubin, that concern is misplaced. While the practice exists for some firms, the majority of buybacks have worked to reduce the pool of shares.
Take the top 20 corporate buyers, which account for almost half of total repurchases. Since the end of 2019, all but five of them have seen their shares shrink. In the third quarter alone, the latest period when the data on actual buybacks are available, about one-fifth of members in the S&P 500 reduced their share count by at least 4%, data compiled Birinyi show.
Still, skepticism persist over the lasting power of corporate buyers. With banks kicking off earnings season this week, more companies enter what is generally assumed to be a blackout period for buybacks. Fourth-quarter profits are expected to fall 3% from a year ago, according to analyst estimates compiled by Bloomberg Intelligence.
"The buying coming from buybacks is unlikely to come back in the very short term. We are in a blackout right now," said Christophe Barraud, chief economist and strategist at Market Securities LLP. "In addition, I don't think that buybacks will go up compared to last year."
— With assistance by Isabelle Lee
---
©2023 Bloomberg L.P. All Rights Reserved