---
BlackRock CEO to Companies: Pay Attention To 'Societal Impact'
Laurence Fink called on CEOs of companies in which BlackRock invests to articulate long-term plans and how their organizations contribute to society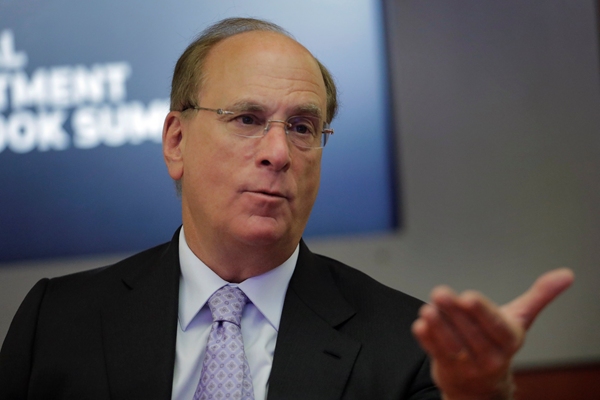 Laurence Fink, chief executive of BlackRock Inc., spoke on an investment panel in New York in November 2017. PHOTO: LUCAS JACKSON/REUTERS
By Sarah Krouse
Updated Jan. 16, 2018 3:11 p.m. ET
The boss of the world's largest money manager told corporate chiefs to prepare for BlackRock Inc. to become a more assertive shareholder.
Laurence Fink in his annual letter to chief executives of companies in which BlackRock invests called on them to better articulate their long-term plans and how their organizations contribute to society, and said the New York money manager will have more frequent and in-depth conversations with them. He has made similar appeals to CEOs in past letters.
BlackRock's assets have swelled to $6.3 trillion as investors have plowed hundreds of billions of dollars into index-tracking funds. That has given large index-fund managers like BlackRock increasing clout on important corporate decisions such as takeovers and the fates of chief executives.
"The time has come for a new model of shareholder engagement—one that strengthens and deepens communication between shareholders and the companies that they own," Mr. Fink wrote.
BlackRock and rivals Vanguard Group and State Street Global Advisors are increasingly among the largest shareholders in many S&P 500 companies. But unlike Wall Street's traditional stock pickers, index-fund managers are unable to sell companies whose actions they disagree with, because those money managers must own shares in the companies that comprise a given benchmark.
That leaves proxy voting and talks with the company as the main avenues index-fund managers can use to press for changes.
"The growth of indexing demands that we now take this function to a new level," Mr. Fink wrote of the firm's corporate governance efforts.
The three largest index-fund providers owned 18.5% of the S&P 500 at the end of the third quarter, compared with 14.7% five years earlier, according to research by Lazard Ltd.
BlackRock plans over the next three years to double the size of the team that engages with companies in which the firm's funds invest, to more than 60 people, he said.
Michelle Edkins, the executive who leads those efforts, will now report to Barbara Novick, a co-founder of BlackRock who leads its government relations and public policy work. "As the objectives of investment stewardship and public policy often intersect," Mr. Fink told employees in a memo Tuesday, Ms. Novick will lead both groups though they will operate separately.
In the annual letter, Mr. Fink reiterated his call for companies to articulate long-term strategic plans and said board members should be able to describe how they oversee those efforts. This year, for example, he said companies should tell shareholders how changes to the U.S. tax law will impact their long-term plans.
Corporate strategies should cover financial metrics, he wrote, but to achieve those "you must also understand the societal impact of your business, as well as the ways that broad structural trends—from slow wage growth to rising automation to climate change—affect your potential for growth."
In 2017, BlackRock and Vanguard supported a successful shareholder proposal at Exxon Mobil Corp. that called for the company to share more information about how climate change and regulations could impact its operations.
BlackRock also cast votes over the past year against directors at some companies due to concerns that they sit on too many boards.
Corrections & Amplifications
BlackRock Inc. and Vanguard Group supported a successful shareholder proposal for Exxon Mobil in 2017. An earlier version of this article incorrectly said it was in 2018. (Jan. 16, 2018)