Shareholders' Meetings Should Keep It Real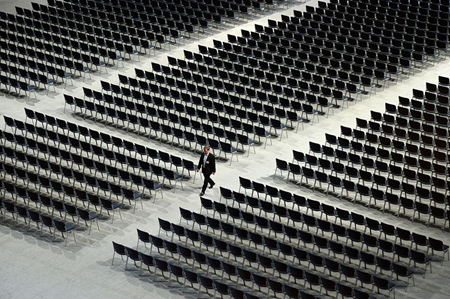 LET THE INVESTORS BE HEARD. PHOTOGRAPHER: CHRISTOF STACHE/AFP/GETTY IMAGES
April 12, 2017 6:00 AM EDT
U.S. public companies are moving away from the traditional shareholders' meeting, opting instead to interact with investors online. Sensible as this might seem in the internet age, it's important to ensure that it becomes a way to improve -- rather than stifle -- communication.
The annual general meeting is among the most hallowed institutions of American capitalism: an opportunity, once a year, for owners to ask their company's executives and directors any question. Online participation can expand access and reduce travel costs, which helps explain why more than 150 companies -- including HP Inc., Comcast Corp. and PayPal Holdings Inc. -- have gone completely virtual over the past few decades.
The problem is, virtual meetings can also enable companies to shut down valuable dialogue. Online, it's easier to cut off awkward lines of inquiry (something that commonly happens, for example, on the quarterly conference calls where companies report their earnings). As recently as last year, virtual-meeting service Broadridge Financial Solutions Inc. actually touted the ability to "privately view and manage" shareholder questions. Many companies offer audio participation only, meaning investors can't see executives' reactions, or in some cases even know who's present.
Granted, physical meetings can waste a lot of time, or worse. Gadflies and protesters can monopolize the events, inundating executives with invective that has little to do with performance. That said, at crucial moments the meetings can matter. In one notorious instance, back in 2006, Robert Nardelli's contemptuous refusal to answer questions at a Home Depot Inc. annual meeting played a pivotal role in his ultimate ouster as CEO. And over the past several years, Exxon Mobil Corp. investors have pushed the company to recognize and adapt to climate change, with some success.
In other words, the physical shareholders' meeting offers a valuable complement to the virtual. It guarantees that the people most motivated to monitor companies' performance can, if necessary, hold executives to account in person. Even if the opportunity is rarely used, the benefits accrue to everyone by discouraging the kind of bad management that can undermine growth and that has all too frequently tarnished the reputation of U.S. capital markets.
How, then, to maintain the in-person tradition? In principle, executives and directors ought to recognize that it's good for their companies and therefore a matter of their own enlightened self-interest. If that doesn't work, the New York Stock Exchange and NASDAQ -- gatekeepers to the ranks of the most prestigious public companies -- ought to make in-person annual meetings, with or without online participation, a requirement for listing.
To contact the senior editor responsible for Bloomberg View's editorials: David Shipley at davidshipley@bloomberg.net.
---
©2017 Bloomberg L.P. All Rights Reserved