---
Business | Europe | European Business News
Burberry Battles Slump With Cost-Cutting, Share Buyback
Fashion house to make 'significant changes' to the way it works after 8% fall in full-year profit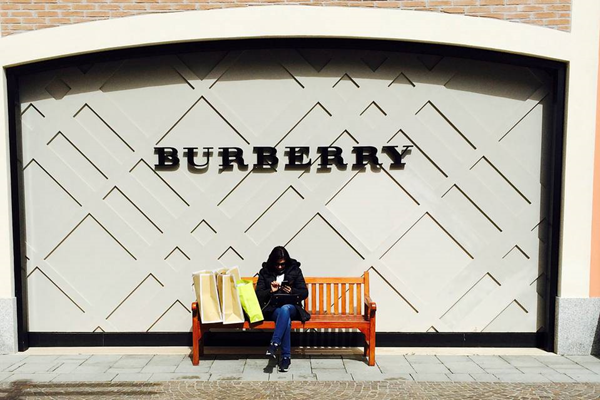 Burberry has seen a fall in sales in markets such as Hong Kong and the U.S. and plans to find new revenue drivers as well as cut costs. PHOTO: REUTERS
Updated May 18, 2016 7:43 a.m. ET
LONDON— Burberry Group PLC announced a cost-cutting program and share buyback on Wednesday as it reported an 8% fall in full-year profit and warned that results would remain under pressure, sending its shares sharply lower.
The British fashion house said it would work to save at least £100 million ($144.7 million) a year by fiscal 2019, and announced a share buyback of up to £150 million starting in fiscal 2017, its first in many years.
The moves have been eagerly awaited by investors, who have been disappointed by Burberry's performance in recent months.
The company has battled a growth slump in markets like Hong Kong and the U.S., piling pressure on Chief Executive Christopher Bailey—who has been juggling his duties while continuing as Burberry's creative head—to find new revenue drivers and cut costs.
Mr. Bailey has so far made small cost cuts but Wednesday's plan goes significantly beyond anything announced previously.
Shares were down 6.2% in early afternoon trading in London as the share buyback was below what several analysts were forecasting and Burberry reiterated its view that fiscal 2017 profit would come in toward the low end of analysts' expectations, adding that profit would be weighted toward the second half. Expectations have moved down to £375 million from £405 million since April, when the company said full-year profit would be toward the low end of the range.
Chief Financial Officer Carol Fairweather, on a call with analysts, said the company would focus on revenue growth and investors shouldn't expect significant margin expansion.
"While we expect the challenging environment for the luxury sector to continue in the near term, we are firmly committed to making the changes needed to drive Burberry's future outperformance," Mr. Bailey said on Wednesday.
Burberry reported a net profit of £309.5 million for the year ended March 31, down from £336.3 million a year earlier. Adjusted pretax profit, which strips out one-time items, fell to £420.6 million from £455.8 million a year earlier.
Revenue was roughly flat, or down 1% at an underlying basis, at £2.51 billion.
The fashion house, which has long struggled to grow its margins, reported an adjusted operating margin for its retail and wholesale arms of 15.4%, down from 16.3% a year earlier.
Burberry said it would save at least a £100 million a year—equivalent to about 10% of operating expenses excluding fixed rent and depreciation—by making "significant changes" to the way it works.
Exane BNP Paribas analyst Luca Solca characterized the cost-savings program as "material and ambitious," but said he maintains his doubts over the company's senior management organization.
Burberry said on Wednesday that it plans to reduce complexity, simplify processes and eliminate duplication—moves that will result in one-off costs of £60 million across the first two years. The company said it would save £20 million in fiscal 2017 and invest about £10 million.
Net operating expenses for the year rose 2.6% to £1.36 billion. The company was helped by a £65 million in performance-related pay since it missed targets for the year. Burberry said it would start to put aside money for new performance-related pay at about £20 million a year.
Analysts at UBS recently noted that Burberry's operating expenses are close to 500 basis points higher than peers, with the company hiring roughly 15% more selling staff.
"Whilst there is clearly a well-talked-about cost opportunity, notably from employee expenses we believe, the bigger prize would be for Burberry to improve as a retailer," said UBS analyst Helen Brand, adding that Burberry could improve staff productivity and average selling prices.
The company said in the current fiscal year it will relaunch its website and introduce a customer mobile app that allows mobile checkouts, among other things. Burberry will also invest harder in training staff and hire 20% more private client sales associates, whose role is to turn big spenders into regular shoppers by cultivating personal relationships and offering styling services.
On a call with reporters, Ms. Fairweather said Burberry will reduce the selection of items it sells in stores to sharpen its focus on best-sellers. "We are moving from breadth to depth and it's about really shining the light on new products coming into the stores, tailoring the assortments for the needs of local customers and rebalancing marketing," she said.
She added that Hong Kong and the U.S., two markets that have proved particularly difficult for Burberry lately, "remain extremely challenging."
Write to Saabira Chaudhuri at saabira.chaudhuri@wsj.com