THE WALL STREET JOURNAL. | MARKETS
---
Activist Investor Scores a Win at Walgreen
Hedge Fund Jana Partners Will Receive Two Board Seats as It Works With the Chain to Lower Costs
---
By David Benoit
Sept. 8, 2014 12:01 a.m. ET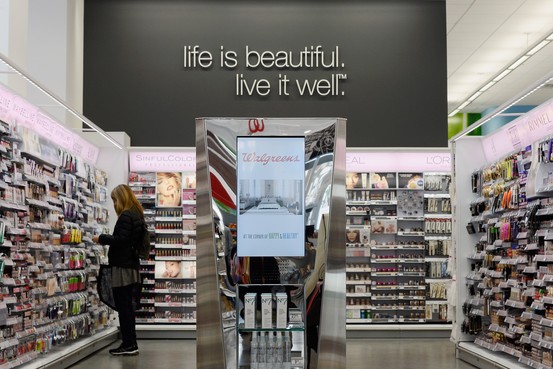 Jana Partners and Walgreen were engaged in a mostly nonpublic discussion about steps Walgreen could take to boost shares, people familiar with the matter said. Above, a Walgreens store in Hollywood. Getty Images
Walgreen Co., facing mounting pressure from analysts and shareholders, said it is giving activist investor Jana Partners LLC two board seats, a relatively large say for a shareholder with a little more than 1% of the company's stock.
The nation's largest pharmacy chain recently disappointed shareholders with its dreary financial projections and its decision not to cut its tax rate by relocating its corporate headquarters overseas. The Deerfield, Ill., company also abruptly replaced its chief financial officer in August, after its internal financial forecasts for pharmacy sales were slashed by $1.1 billion. The stock lost 15% during that month, though it has since gained some back.
The agreement with Jana is a big win for an activist investor. These firms typically buy up shares in companies and urge change such as financial maneuvers, asset sales and management shake-ups. While Jana's stake in Walgreen was small percentage-wise—about 1.2%—some activists have also scored wins with similar positions in large companies. Walgreen has a market capitalization of around $61 billion.
Still, gaining more than one board seat with only 1% of the stock is notable. Microsoft Corp., for instance, granted San Francisco firm ValueAct Capital Management LP, which owned less than 1%, a single seat on its board, a concession that raised the profile of ValueAct and was much discussed in boardrooms around the country, corporate advisers have said. Many companies resist giving activists a single director seat, for fear of their influence once in the boardroom.
| | |
| --- | --- |
| Barry Rosenstein | |
Since the spring, Jana and Walgreen were engaged in a mostly nonpublic discussion about steps the company could take to boost shares, people familiar with the matter said.
Jana's Barry Rosenstein and Walgreen Chief Executive Greg Wasson had largely friendly and constructive conversations, even as Walgreen rejected the suggestion to move, which had ignited public controversy, people on both sides said.
With seats on the board, Jana will now work with Walgreen to cut costs and change the kinds of products the drugstore chain stocks on it shelves, while also urging changes to its capital allocation, such as increasing its stock repurchase plan, the people said.
Mr. Rosenstein will join Walgreen's board immediately, and Jana will place a second director as soon as it identifies a candidate Walgreen accepts, expanding the board to 15, Walgreen said. The hedge fund will also get a say in filling the next board vacancy, whenever that comes during the length of Jana's investment period.
"We are pleased to welcome Barry to the board in this pivotal moment for our company," Walgreen Chairman James Skinner said in a statement.
The New York hedge fund had pushed Walgreen to do a so-called tax inversion, people familiar with the matter have said. Walgreen could have done so by completing a potential deal to buy the rest of European drugstore chain Alliance Boots GmbH and moving its headquarters abroad to a country with a lower tax rate.
But amid a public backlash on such deals, including from the Obama administration, Walgreen decided against the move when it announced its plan to buy the rest of Alliance Boots last month. Walgreen also put forward an estimate for its earnings that surprised shareholders. Amid the double punch that day, the stock fell 14%.
Though Jana had wanted the inversion done, Mr. Rosenstein continued to push other changes he had previously suggested to the company. He urged it to learn more from Alliance Boots, which is known for selling high-end beauty products at its pharmacies, the people said.
The disappointing financial guidance was the result of an internal sales forecast that was missed by more than $1 billion, a mistake tied to Medicare-related sales, The Wall Street Journal reported last month.
Before the forecast, analysts at Barclays Capital had warned in a June report that the board was susceptible to an investor uprising that could push the company to put Alliance Boots management in charge.
Walgreen's decision in August to increase its dividend and launch a $3 billion share buyback also failed to appease critics. Barclays questioned management for not doing a larger buyback on a public conference call.
In June, Barclays had estimated a $14 billion buyback was possible.
Walgreen is now planning an investor day, a step Jana has advocated at other companies, where it will discuss capital allocation and its outlook.
For Jana, which manages $11 billion in assets, the agreement is the latest in a string of deals that came without a public brawl for board seats. The hedge fund has seen its ideas quickly adopted or carried out at oil-and-gas company Apache Corp., grocery-store chain Safeway Inc., and engineering and construction firm URS Corp. None are near the size of Walgreen. Apache and Safeway had taken some steps before Jana's proposals.
But the hedge fund will still fight publicly, such as the recent push to get pet-store chain PetSmart Inc. to put itself up for sale. PetSmart last month announced a strategic review, citing a process that began before Jana revealed an investment.
Write to David Benoit at david.benoit@wsj.com