---
Hedge Funds | World Economic Forum in Davos |
SkyBridge Capital's Founder Sees Potential of Activist Investors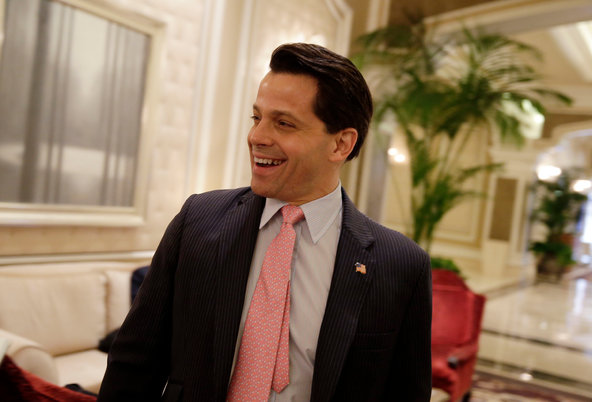 A Isaac Brekken for The New York Times
Anthony Scaramucci, founder of SkyBridge Capital, hosts a popular wine-and-schmoozing event during the World Economic Forum.
DAVOS, Switzerland – The official themes of the World Economic Forum this year may include innovation and sustainability.
But for Anthony Scaramucci of SkyBridge Capital, there is a narrower but still important current running below the surface: What are companies around the world going to do with their cash?
It may be less grand than promoting social exclusiveness, but the point underlines a fundamental truth about Davos. The enclave in this alpine city revolves strongly around business, as chief executives and financiers swan around to network. (Mr. Scaramucci, a flamboyant salesman whose nickname is "the Mooch," himself hosts a popular wine-and-schmoozing event during the forum.)
For Mr. Scaramucci, a money manager whose firm has about $6.3 billion invested in hedge funds, there is perhaps no more prominent trend than investors trying to get companies to shrink their bulging cash reserves.
That has been a focal point of the latest wave of shareholder activism, where hedge funds have pushed companies to make better use of their cash – like, say, returning it to investors in the form of dividends or stock buybacks. A growing number of companies, including titans like Apple, have faced pressure, leaving many to gird themselves against possible attacks.
The rise of activists, including World Economic Forum attendees like Third Point's Daniel S. Loeb and Elliott Management's Paul Singer, was made possible by the conservatism of companies after the financial crisis. Unnerved by the violent market gyrations of late 2008, corporate chiefs have built up their reserves. Now the heat is on to put that money to work, whether through mergers or distributing it to shareholders.
Mr. Scaramucci's firm has bet a growing percentage of its assets on so-called event-driven hedge funds. He added that he was eager to keep plunging into the strategy, slowly shifting away from a wager on the resurgence of mortgages. The latter has been good for SkyBridge, which reported a return of 21.5 percent in 2012 and 14.25 percent last year.
The strategy still has around two years to play out, he added. But there is still a lot of room, with more than $2.8 trillion on the balance sheets of companies in the Standard & Poor's 500-stock index.
"If Dan reopens his fund, I will be standing there with a very big check," Mr. Scaramucci grinned.
---