NextCapital takes on competing retirement robos with 401(k) account aggregation
With such automated functionality, advisers can pull data from various sources to create a comprehensive financial plan
Sep 22, 2015 @ 12:01 pm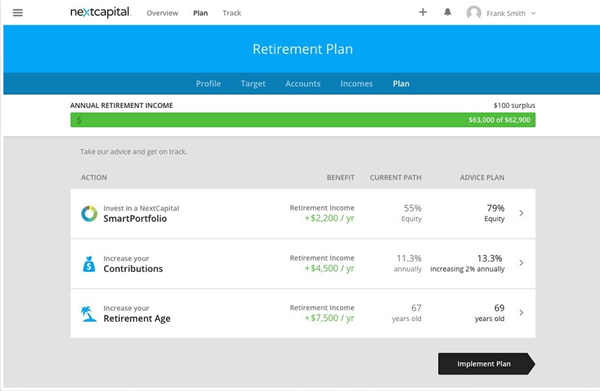 (nextcapital.com)
---
NextCapital, a robo-adviser that focuses on retirement, is implementing automated 401(k) account aggregation, touting it will help advisers to peer into a client's retirement assets to get a fuller financial picture.
Through its 401(k) Digital Advice Platform, advisers will be able to create a retirement savings plan and portfolio construction recommendations, while taking into consideration what clients already have in their defined-contribution accounts.
The goal is for advisers to center an entire financial plan around the work-sponsored retirement plan.
"It's really about aggregating everything else into the 401(k)," said Rob Foregger, co-founder of NextCapital. "The 401(k) is the primary place for Americans to save for and manage retirement."
The company will be pulling the data from technology created in-house, as opposed to some other robo-advisers who partner with data-aggregation and analytics services such as Quovo and Yodlee.
Other platforms that offer account aggregation include retirement robo-adviser Financial Engines and Morningstar.
Mr. Foregger said that it is more crucial now than ever before to do something like this, especially with the Labor Department and White House pushing for a fiduciary standard for retirement plans, which would mandate that all financial professionals advise clients with their best interests top-of-mind.
"There is a push from consumer-protection groups, so scalable personal advice will become more mainstream," he said.
It has the potential to do so for advisers' practices as well.
Kristi Sullivan, adviser and owner of Sullivan Financial Planning, said that automated account aggregation for 401(k)s would facilitate more detailed, tailored conversations with clients about their retirement accounts. It would help advisers to alleviate any issues that clients may not even know they have.
Ms. Sullivan said what she sees most often is clients who are invested in multiple target date funds. She then spends the time to explain what these funds are and how they're meant to be used.
As defined-benefit plans go the way of the dodo bird and more people are anxious about relying on Social Security, 401(k)s have become an integral part of the conversation between advisers and clients.
"For a lot of people, a 401(k) is the biggest account [they have] and certainly the one that grows the fastest," Ms. Sullivan said. "If invested poorly or inefficiently, it's definitely a conversation advisers should have with their clients."
Account aggregation will help advisers to make such communication even more relevant and customized, said Yoav Zurel, the chief executive of FeeX, a technology provider that looks to reduce retirement plan fees.
"Because we have more access to data, we get more transparency," Mr. Zurel said, noting that advisers and investors should look closely at the exact fees that these 401(k) plans — and the funds on their investment menus — charge.
"If I am advising on household portfolios, I should take the 401(k) assets into account as a significant part of an entire diversification strategy," Mr. Zurel said. "I can provide value on the entire wallet of a user."
More insight: Quovo CEO Lowell Putnam on the hottest trends in data aggregation: